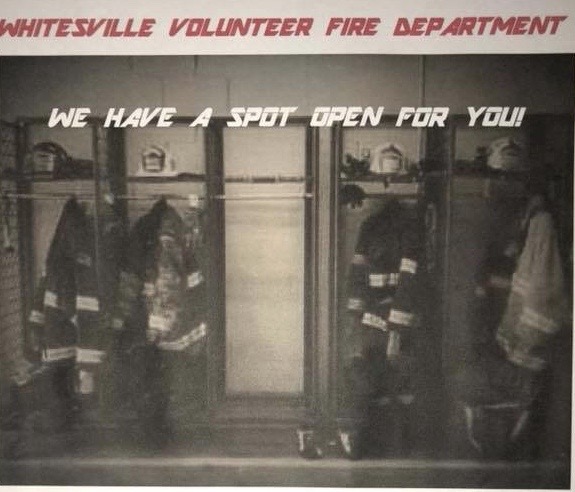 GET INVOLVED!
By joining the Whitesville Volunteer Fire Department you're afforded the chance to truly make a difference in your community. This is a rare opportunity to get involved in something rewarding and meaningful! You will receive all required training to be a volunteer fire fighter, develop the courage to act, and the ability to perform.
GIVING BACK!
The greatest way to give back to our community is answering the call when a neighbor is in need. It's providing the safety and reliability that the community needs. Most citizens may think they don't have the time- until they feel the honor of helping out their neighbor in a way that no one else can. You'll realize nothing is more worth your time.
BASIC REQUIREMENTS
-Minimum 16 years of age
-Complete application
-Complete Drug testing
-Attend Required Fire-Fighter Training
-Regular participation in dept functions.
Membership Benefits
-Free Fire/EMS training
-Life insurance
-Opportunity for advancement
-Community involvement
-Access to fitness equipment
Training Offered
-Fire-Fighter 1
-CPR/First Aid
-Haz Mat Operations
Any questions? Please feel free to contact us via email or phone!
Phone: 304-854-1197
E-Mail:
mattrlively@whitesvillefire.com